Our monthly committee meeting via Zoom was on 16 March.
Stakeholder engagement
Prior to the COVID-19 pandemic, the campaign was part of a regular cycle liaison forum with local officers and councils, that provided a space for conversations on the full range of engineering through to strategic issues affecting cycling. This meeting has been abolished, and instead replaced with a wider, biannual cycle forum with a Cycling Advisory Group, primarily formed of local elected members. Public and community group membership of this latter group will be limited to three members, selected via a competitive process.
We have been unsuccessful in suggesting that, for the advisory group to be effective, the larger cycling representation groups (including the Cheltenham & Tewkesbury Cycling Campaign) should automatically be included, so a committee member is now going through the application process. You can view papers for the forum and advisory group through the county website.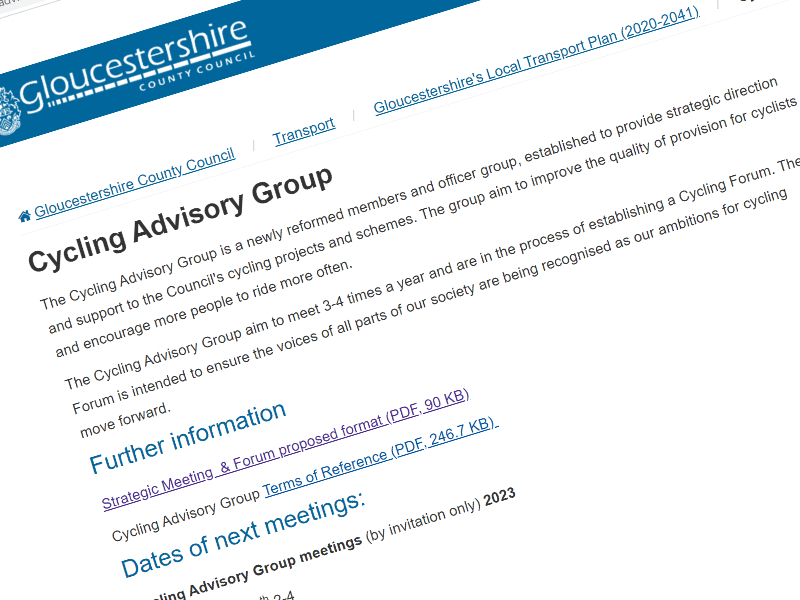 We have also been reaching out to connect with Active Travel England and Sustrans, given their roles in assuring and reviewing schemes delivered in Gloucestershire. Whilst the county council have made statements on only installing safe and compliant infrastructure, recent works, such as along the Shurdington Road where cyclists are expected to negotiate a 75cm gap immediately adjacent to traffic lights, highlights the importance of effective internal and external scrutiny.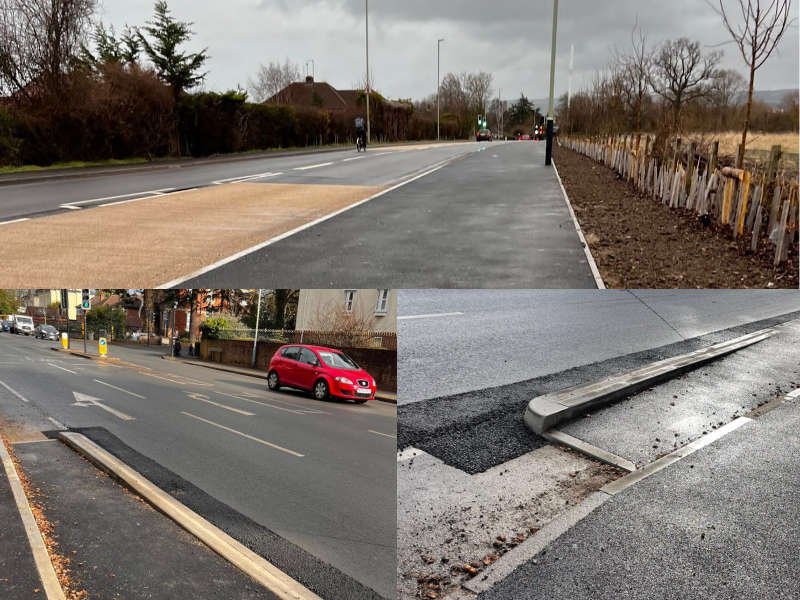 We will continue in our efforts to engage with officers and Gloucestershire Highways on specific issues as they arise.
Active Travel Budget Cut
Whilst motor fuel duty has been frozen for a thirteenth year, and additional money released for major roads projects, the last government budget made very significant cuts to the active travel monies available for England from £308m to £100m over the next two years.
Cycling UK have an action you can take to write to your local MP to support a letter from the Walking and Cycling Alliance asking for these cuts to be reversed, and progress on sustainable and active travel to be accelerated.
Charlton Hill closure
We were surprised by the level of interest in our article on the Charlton Hill A435 closure, and the extended diversion proposed by Gloucestershire Highways. There has sadly been no movement in accommodating pedestrians and cyclists through the closure, even for periods during the works.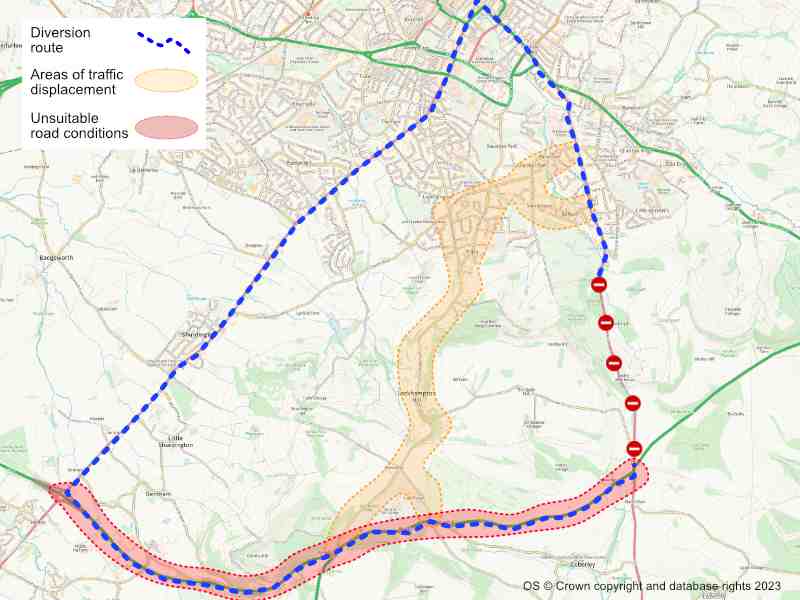 The committee also reviewed our first glimpse at information on what the cycle facilities described within the scheme will be.
The geotechnical stabilisation works create an area that cannot be driven over by motor vehicles, and so this area is to be separated off using soft segregation bollards and left as a 'multi-use' area for pedestrians and cycle users. We are unclear whether it will be continuous along the full length of Charlton Hill, or just the repair area.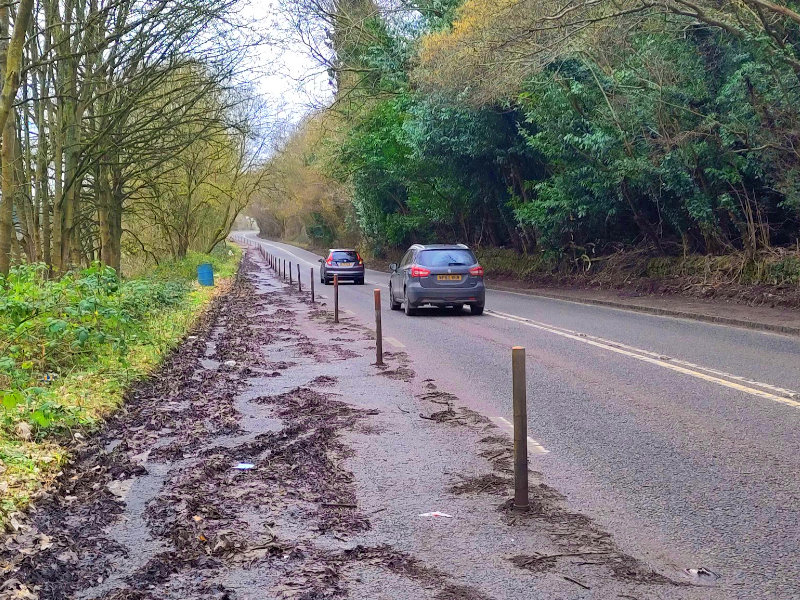 We have raised concerns that, due to the low levels of cycling activity on this route, and the lack of any maintenance vehicle appropriate for this space, that the 'facility' will quickly become obstructed and slippery with debris. Given this is not an area that experiences vehicle incursion for parking, we have suggested that removing the bollards whilst ensuring a sufficient buffer from vehicle traffic would deliver a more robust and usable route.
We are interested to hear feedback on the impact of diverting traffic on alternative roads and side streets as well, so do get in touch.
Cycle parking
We have been working with Cheltenham Borough Council on a rapid piece of work to install additional cycle parking, and the committee recorded the submission of our 'wish list' for ideal locations, which has a particular focus on providing secure parking near local centres for utility trips around town.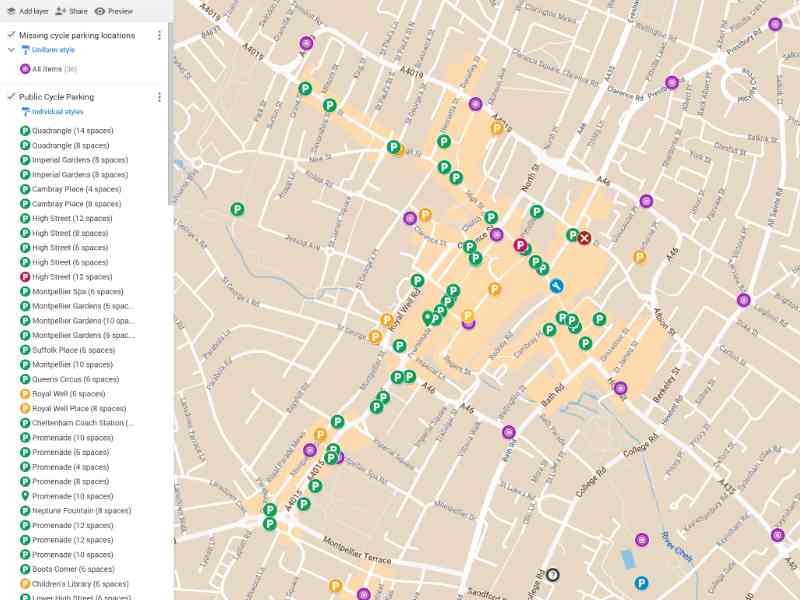 In creating this map, we've seen the opportunity to create a public cycle parking map for north Gloucestershire that allows you to check if cycle parking is available near your destination. This is still in draft, but we're now asking members to help us fill in the gaps. You can view the draft map here, so have a look and see if there are any missing storage.
We plan to add business cycle parking to this map, and to make an assessment of the quality of the cycle parking at each location in the coming months, along with a photo of the parking.
We've also reported a 'cut' cycle stand found on the Bath Road. Whilst fortunately rare in Cheltenham, this type of vandalism allows the stand to be easily rotated, and a locked cycle removed. The cut is often hidden by a sleeve or sticker. Remember to check your stand before securing your bike.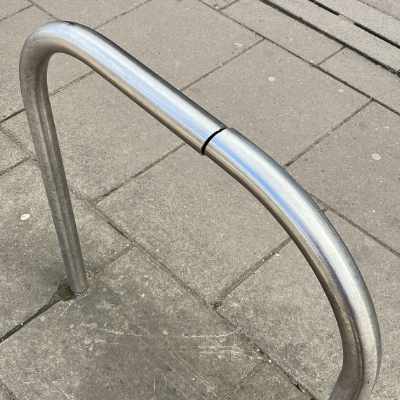 Wish list
We reviewed and approved an addition to our wish list submitted by a member highlighting the poor alignment of the northern end of Montpellier Street for bringing turning traffic into conflict with contraflow cycles. This will be added to the map in the coming month.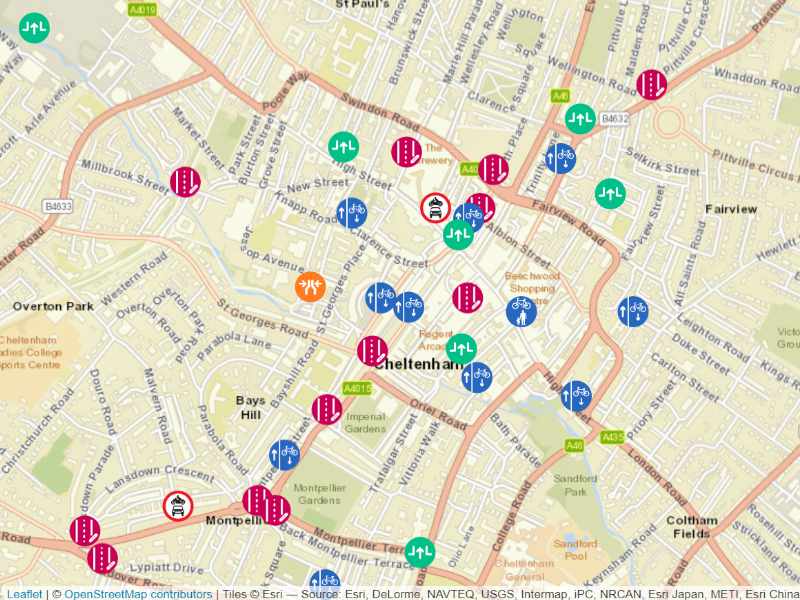 If you're talking to your local councillor about improving cycling, have a look at the maps for some ideas about where they could start in using their local highways budget to make a positive difference for cycling.
We're in the process of choosing our 'top 5' interventions for Cheltenham Town Centre, and there will be a chance to discuss this at our next coffee meet up on 4 April.
Cheltenham Spa Station
Regular subscribers and visitors will know that we are working hard behind the scenes to make sure that GWR deliver on their cycle-rail funding commitment of a connection between the Honeybourne Line and Shelburne Road/A40, and that the additional severance created by the car park works is fixed.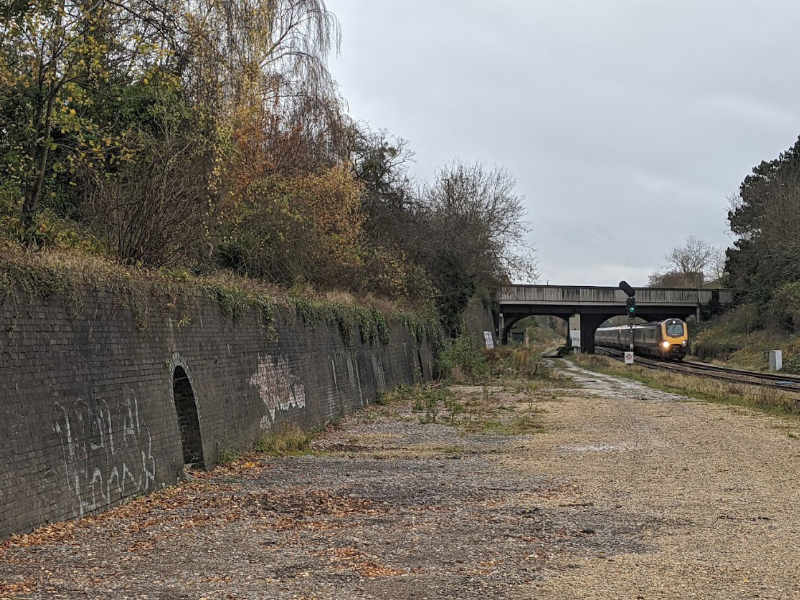 Different organisations each appear to believe others are the cause of the delay, but there is ongoing correspondence and commitments work should be starting this year.
B4063 works
The campaign continues to monitor the works and plans for the Cheltenham to Gloucester cycle route. We are seeing a mixed picture, with some temporary increases in cycling, but also challenges due to impact of the streetworks, a deteriorating experience for those wanting to cycle on the road, and surfacing problems.
During our recent cycle counts, we also saw the impact of the limited sighting lines on junction safety, particularly at Hayden Lane for vehicles approaching the junction quickly from the north and intending to turn left onto the B4063, across a cyclists path approaching from that direction. We are in active conversation with Gloucestershire County Council about these concerns.
Membership
We saw a slight drop in membership over the last month, which we often experience at this time of year as many renewals fall due at this time of year. If you think we've missed you, do get in touch, and if you aren't not a member, please do consider joining for only £5 per year. That supports our website, and we also have some new print resources you'll be helping to share into local venues in the coming months.
Our campaign stickers are also still available, and we would be so grateful if you could highlight and support the campaign by having one of these on your bike, kit or stuff. You can order them for free via this form.
Thanks as ever from the committee for your interest and support in improving cycling for everyone in and around Cheltenham and Tewkesbury.