From 20 March 2023 to 29 September 2023, the A435 Charlton Hill, connecting Charlton Kings and Seven Springs roundabout will be fully closed to all traffic. This includes cycle users and pedestrians. (see roadworks closure location on Google Maps)
The works are to repair major subsidence of the bank resulting in a partial collapse of the uphill crawler lane. This are has been fenced off with flexible posts for some time.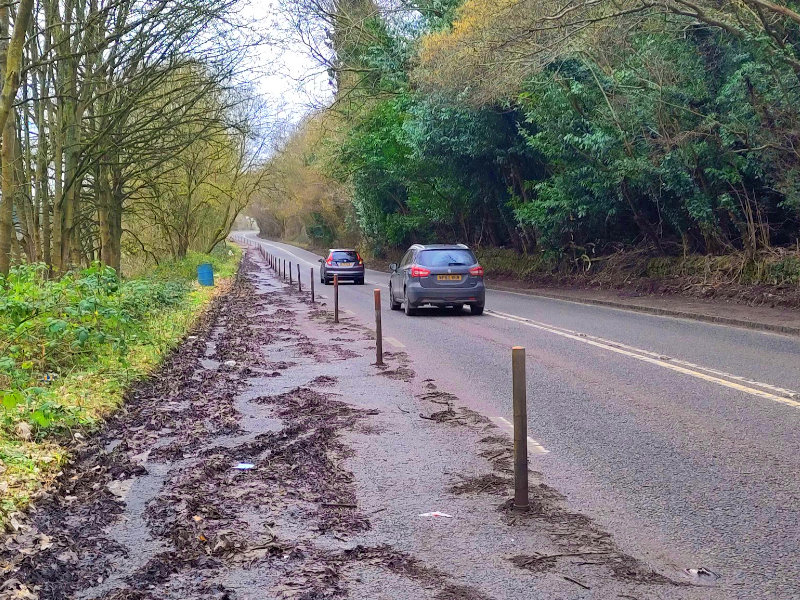 The A435 Charlton Hill project website describes that the repair will include an uphill cycle lane facility but, despite multiple requests, we have not had this information shared with us, so cannot comment on its future utility. (As of 28 Jan 2023)
What are the impacts for cycling?
Cycle users should be aware of the closure because;
1) It will disrupt a route out of Cheltenham for those who are cycling longer distances for utility or leisure
2) The signed diversion is substantial, and we suspect there is likely to be an increase in motor vehicle traffic on side roads, and the diversionary route, that may impact cycling in other parts of south Cheltenham.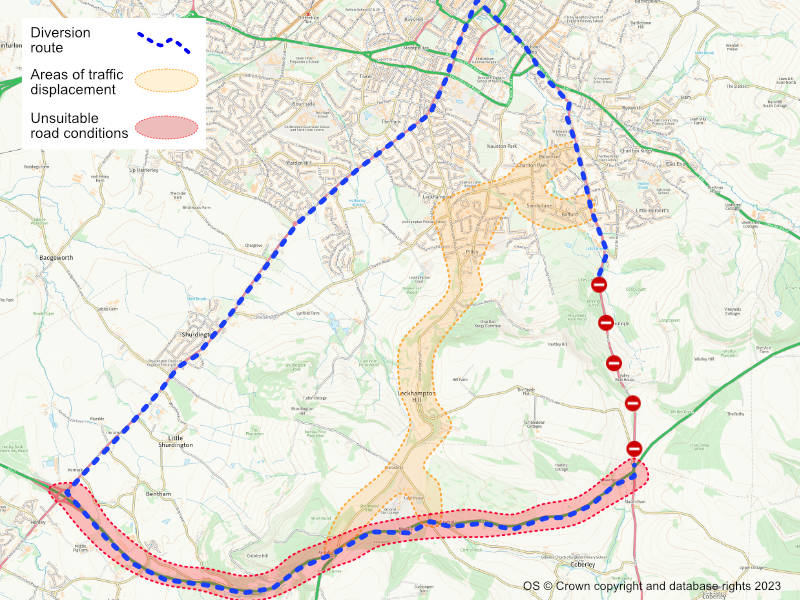 Similar to our complaint regarding the Bamfurlong Lane M5 overbridge closure, we believe the blanket closure without consideration of the disproportionate impact on pedestrian and cycle users is unreasonable.
The county council have said "We strongly recommend vehicles and cyclists use our signed diversion when it is in place as it is suitable for all road users and will help avoid local congestion."
Anyone who knows the area will see that suggesting the three-lane, 70mph A417 dual carriageway followed by an ascent of Crickley Hill, mixed with heavy motor traffic through the Air Balloon collision blackspot, as an appropriate alternative is ridiculous.
Even the proposed A436 diversion segment is not suitable for cycling due to its narrow width, high traffic volumes, and in particular the large number of HGVs. We do not believe the proposed solution meets the test set by the Road Traffic Regulations Act 1984 of 'securing the expeditious, convenient and safe movement of vehicular and other traffic (which includes cycles) in all road schemes.'
What alternatives are there?
Given the substantial site width, we think other options are available, such as an escorted corridor, shuttle or a retained pathway on the upslope side of the closure.
A committee member continues to attempt to engage with the contractors and council on this, on behalf of the Cheltenham & Tewkesbury Cycling Campaign.
We would be interested to hear your experiences of this closure once it has started.