About the campaign, and how to join us
Our story
The Cheltenham group was established in 1980, and we are now one of the oldest cycling campaigns in Britain. In 2008, we grew to become the Cheltenham & Tewkesbury Cycling Campaign, and have become an important positive voice for cycling across Gloucestershire. Over the years, we've made sure that cycle users have a voice in the planning of our streets, whilst also creating important resources and events to raise awareness and to enable cycling for everyone.
Sign up for our free newsletter
Sign up to our free email newsletter for monthly updates on campaign activities and news affecting cycling in Cheltenham, Tewkesbury and across Gloucestershire.
Join the campaign for £5/year
Becoming a member allows you to support the work that we do, and you are welcome to join our discussions, and build connections with like-minded people who want Gloucestershire to be a safe and enjoyable place to cycle.
Every member of the campaign is a volunteer and gives their time free of charge. Membership fees help us to run our website, prepare and print resources, and run events to raise the priority of cycling across Gloucestershire, particularly around Cheltenham and Tewkesbury.
The more members we have, the richer the experiences we can share, and the more significant our voice becomes on behalf of local cyclists.
Everyone can get involved
You don't need to be a member to get involved. If you'd like to get the latest updates on the campaign, you can;
1. Follow us on Twitter
2. Follow our public page on Facebook for news and announcements
3. Join our Facebook discussion group for more in depth discussions
You can also virtually ride with us. You can link your miles to us on 'Love to Ride', a great platform for keeping a log without needing to compete with others, and you're entered for regular competitions as you ride.
Some of our members
Andre (C&TCC Chair)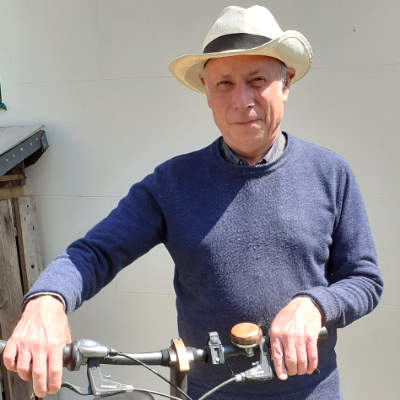 Andre has been an active member of the cycling campaign in Cheltenham almost since its foundation in the early 1980s.
He has also been a campaigner at a national level, with a number of roles including chairing the federation of cycling campaign groups, part of the team that organised the partlamentary inquiry on cycling, manager of National Bike Week, and running a series of cycle planning best practice seminars.
Andre is the chair of the cycling campaign committee.
Bex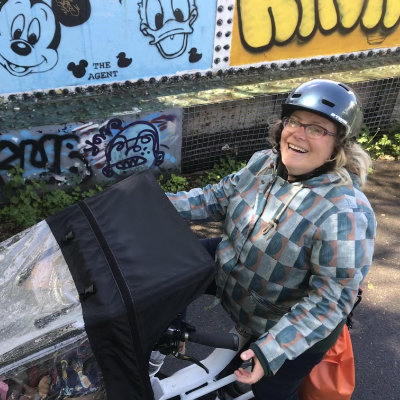 Bex was a keen mountain biker as a youth then turned to cycling after having kids as an alternative to getting a driving license and second car for the family. She now spends her days cycling around town using a Dutch cargo bike to carry her two children to home education activities.
Bex is passionate about helping to find ways to fix the issues with cycling routes around the town particularly for those riding alternative cycles. She also loves to help families to get riding.
She is Cheltenham's Cycling Mayor and you'll find her on Twitter.
Chris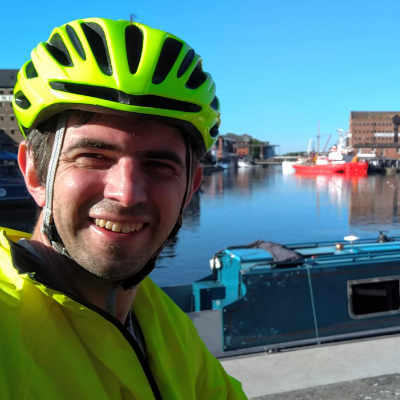 Chris lives in West Cheltenham, has a young family and works for the NHS. He came back to cycling after a long break since student years as a way of getting around town, for fun with the kids, and to fit exercise in around other activities.
He's really interested in finding routes that work for everyone, and gets involved scrutinising proposals against safety standards. You can also find Chris on Twitter.
Chris is the secretary of the cycling campaign committee, and maintains our website.