Keep the link alive – sign the petition
It's time to make a noise and show how important a walking and cycling link from the Honeybourne Line to west and south Cheltenham is for local people.
Visit Change.org/honeybourne and add your support for our call to 'Build the Honeybourne Line cycle link from Cheltenham Spa Railway station to A40/Shelburne Road'
What's happened to the Honeybourne Line cycling link to Cheltenham Spa Station?
GWR announced in April 2023 that they are no longer able to build the long-promised active travel link from the Honeybourne Line end at Cheltenham Spa Station to Shelburne Road and on to the A40.
They say that the Department for Transport has reduced their budget and they can no longer afford it.
This has been made worse by several years of delays as various organisations have argued over land ownership and maintenance, adding more costs with rising inflation.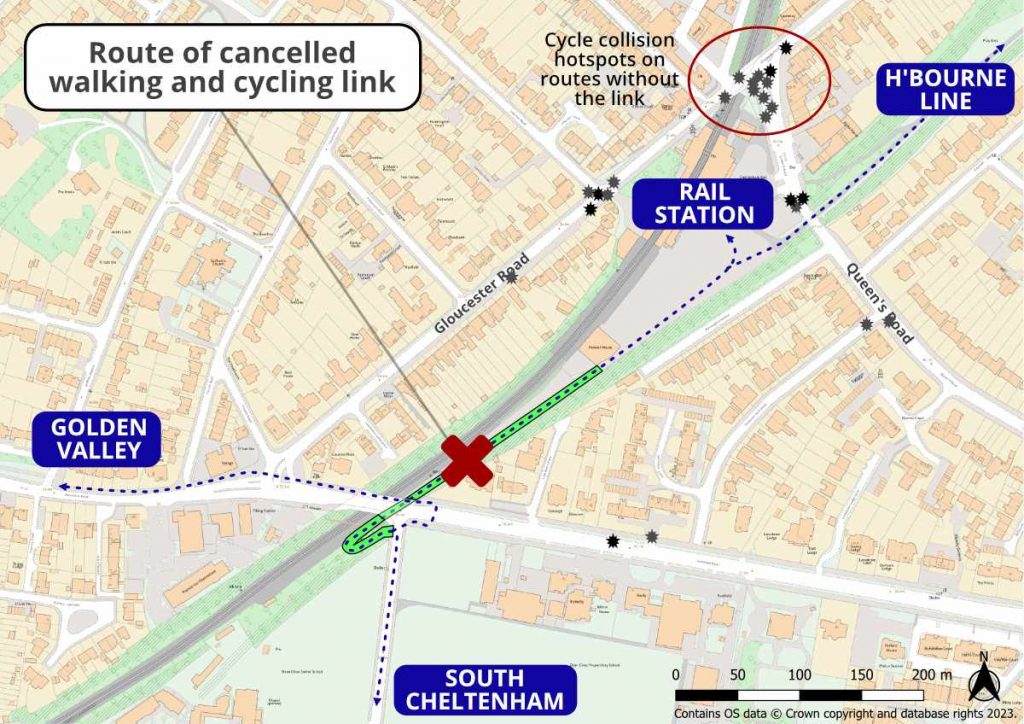 The car-dominated forecourt scheme that was built first makes things worse. It took away a link from the station entrance to the Honeybourne Line and established woodland, and introduced more points of conflict for pedestrians and cycle users as they follow the desire line across the taxi area.
As is often the case though, whilst extra money was found for the car parking spaces, there is now apparently no money available to build safer routes for those walking and wheeling.
When we look at the scale of road transport projects being undertaken in the region, we think that this is a question of priority, not money. Our petition calls for the Department of Transport, currently led by Mark Harper (a Gloucestershire MP), to get this link built after many years of waiting.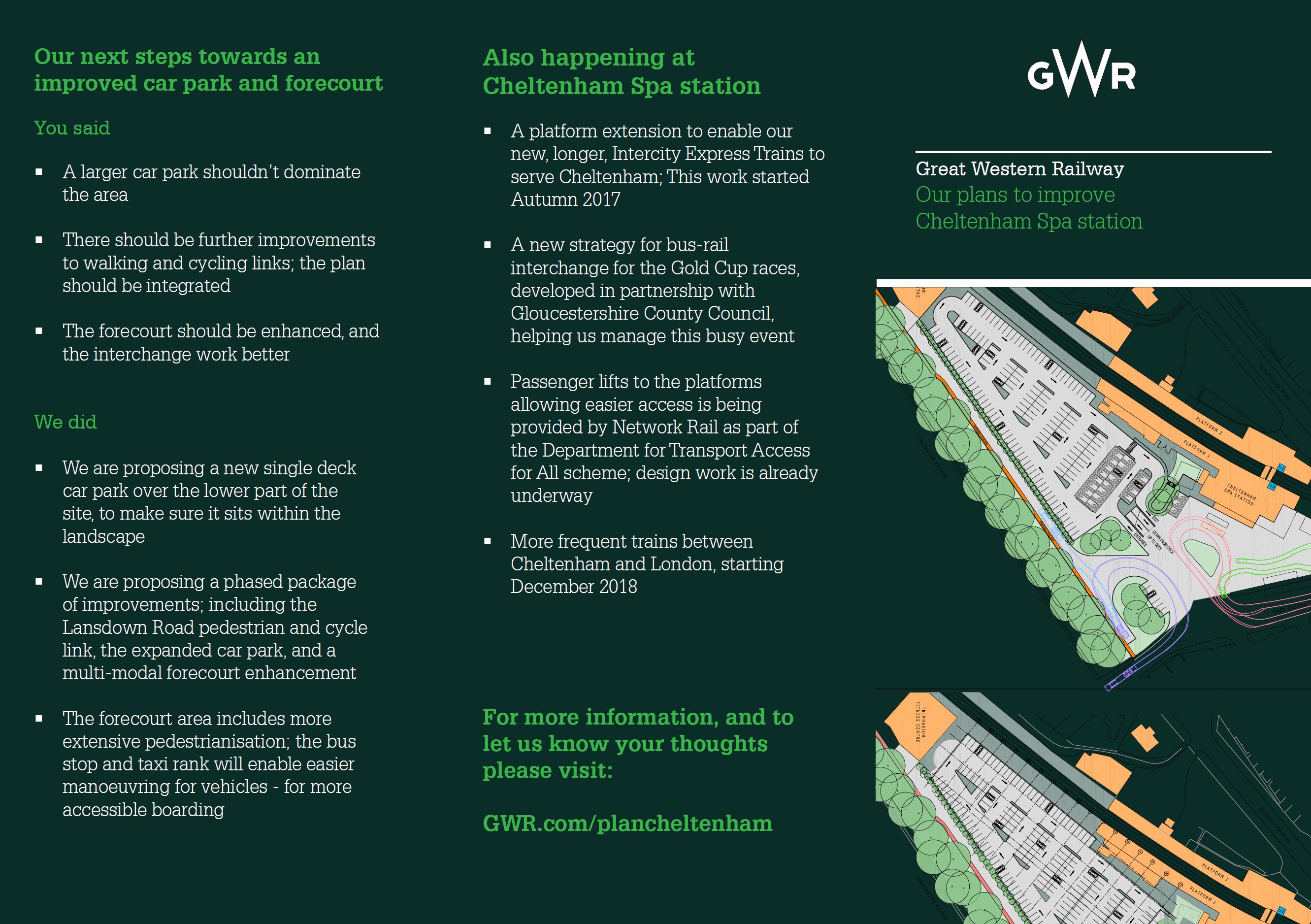 Original leaflet promoting the scheme when it was consulted on with the general public
What would the Honeybourne Line cycling link have looked like?
A link from the Honeybourne Line to the A40, and along Shelburne Road towards south Cheltenham, has been a priority for the Cheltenham & Tewkesbury Cycling Campaign for many years.
The disused railway bed is a core part of the cycling network. Indeed, C&TCC campaign members helped build the very northern end as a grassroots action to make it happen.
The southern end has been neglected though, leaving cyclists to either mix with heavy traffic on the Gloucester Road, or take a circuitous diversion with pinch points and poor surfaces via Queens Road.
A direct link offers economic benefits as well, providing a much more direct connection to the station for those not arriving on foot, and giving direct access to the A40 bus routes. It will deliver environmental benefits as it supports modal shift, and moves people away from poor air quality on the parallel road network.
The original plan was a link rising from the end of the station car park to meet the A40 at the corner of the railway bridge. However, the need for Network Rail to maintain access past the old mail building (recently 'Trimnasium') meant there was insufficient distance to achieve this without a steep gradient.
The plan therefore changed to go under the bridge, and then to turn back to come out at the top of Shelburne Road. The campaign had some concerns about the turning circles but were told that the scheme was too close to delivery to be changed.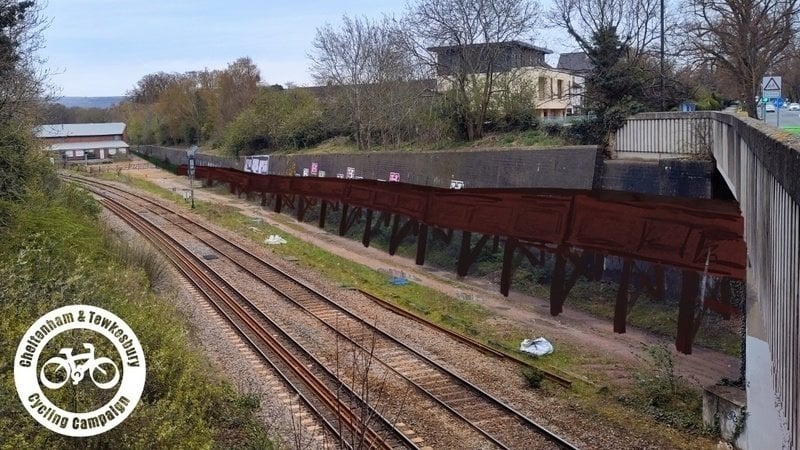 So what has happened?
We noticed a few years ago that GWR removed the cycle-rail link from the Cheltenham Spa project page on their website, and a further round of publicity literature displayed at the station also omitted it. Since then, we have monitored the scheme even more closely, and sought meetings with GWR and other organisations to make sure their promises were kept.
We also designed and agreed a compromise scheme with GWR to address the key challenges of the new forecourt design for cyclists, which GWR said they would deliver as soon as they appointed a contractor for the bridge link.
However, at every promised start date, a new issue has apparently cropped up. It is our understanding that Network Rail have been uncomfortable about having the cycle track on their land, and so their have been a sequence of obstacles raised to securing the necessary agreements for the project to move forwards. As a result, costs have risen and contract award deadlines have been missed.
In recent months, we are advised that the Department for Transport as it established the 'Great British Railway' has cut the budget for GWR to undertake schemes like this, and so because work has not started, the scheme has been stopped.
There are still promises to make sure the scheme is 'shovel ready' so work could commence if money is found, but there is no date when this will happen.
Without GWR agreeing that there is sufficient money available from the Department for Transport, or other sources, we will not get our safe walking and cycling link.
What can you do about it?
As the leading cycling campaign organisation in north Gloucestershire for safer and more accessible cycling, we are devastated and frustrated to hear that the Honeybourne Line cycling link has been indefinitely postponed.
We're encouraging everyone who wants to see increased levels of cycling in Cheltenham to take the following actions;
Sign our change.org petition, and share it with friends and family. We need to show that this is a major issue for local residents in and around Cheltenham, and that we are looking for action. Individual family members can sign separately, and we'd encourage you to do this to show how many in the household would benefit.
Write to our MP, Alex Chalk. Ask him to support the link and to raise the issue with the Secretary of State for Transport, Mark Harper (also a Gloucestershire Conservative MP)
Talk to your county councillor (find them on our handy 'who's responsible' page). Although the Department for Transport should be funding this scheme, Gloucestershire spends millions on its roads every year. It could support the scheme separately if it was a high enough priority.
What else is the cycling campaign doing?
The Cheltenham and Tewkesbury Cycling Campaign committee will also be pursuing the following actions;
Creating a coalition of supporting organisations. We will be approaching other campaign and cycling groups, the political parties, business organisations, key local figures and public sector organisations, to ask them to support our petition, and share it within their own networks. We'll share who does and doesn't support the ambition to get this cycle link built.
Getting the forecourt fixed. We believe there is sufficient money available through existing cycle-rail funding to fix the issues with the forecourt, reinstating a continuous route to the Honeybourne Line northbound, and removing the 'cyclist dismount' signs.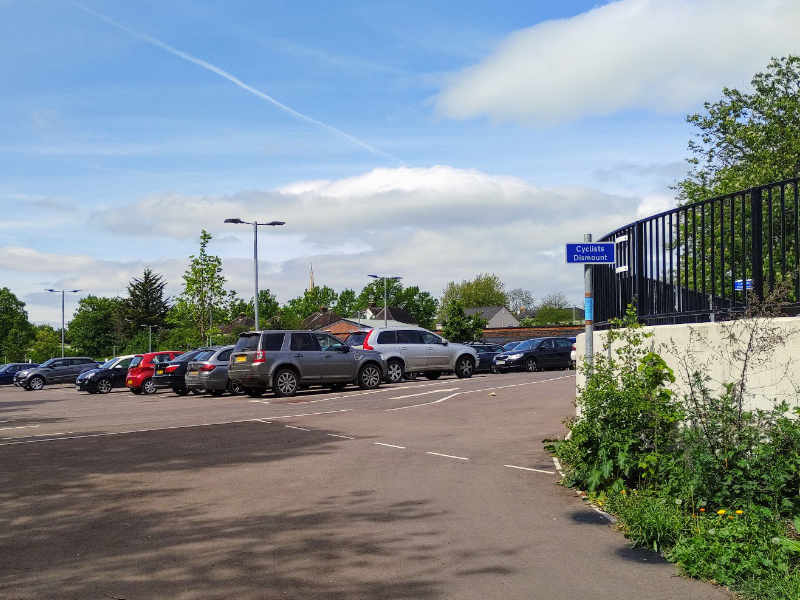 The 'cyclists dismount' signs added by GWR as part of the new car park scheme.
Following the money and decisions. Our current impression is that money that should have been spent on cycling has been used to support other elements of the scheme, and the value for money on elements such as the cycle parking is low. However, it's difficult to follow because of the way money has been moved around between the Department for Transport and GWR, and GWR insist that they have spent several hundreds of thousands of pounds on the cycle facilities already. We've kept good records in recent years, and we will be seeking more information through available routes to build up a better picture on whether GWR has delivered value for money so far.
Promoting the petition through leafleting, and further advertising. As well as social sharing, we plan to use some of our volunteer resource to hand out information on the petition to users along the Honeybourne Line in the coming weeks. Please do subscribe to our newsletter as we'll need as many volunteers as possible to help with this.
Working to secure safe, interim measures. There are opportunities to improve safety and comfort on the parallel routes. We will be championing the need for Gloucestershire County Council to take bold, evidence based action to open these routes up to more users.
What happens next for the Honeybourne Line?
We're determined to keep this vision alive, and get the Honeybourne Line Cycle Link from Cheltenham Spa station to the A40/Shelburne Road built.
The Honeybourne Line is an integral part of our story as a campaign, and whilst we may no longer be allowed to dig it with our own bare hands, we will ensure that it isn't quietly swept under the carpet.
Make sure you've subscribed to our newsletter so we can keep you up to date with the latest news. We'll be discussing next steps at our regular coffee meetups in the coming months, and are planning a Deya campaign gathering soon as well.
Please do share the campaign and this petition with those you know, who either do cycle or would benefit from a better network in Cheltenham. As a totally voluntary organisation, our voice is our members and supporters, so we need you if we're to have the biggest impact.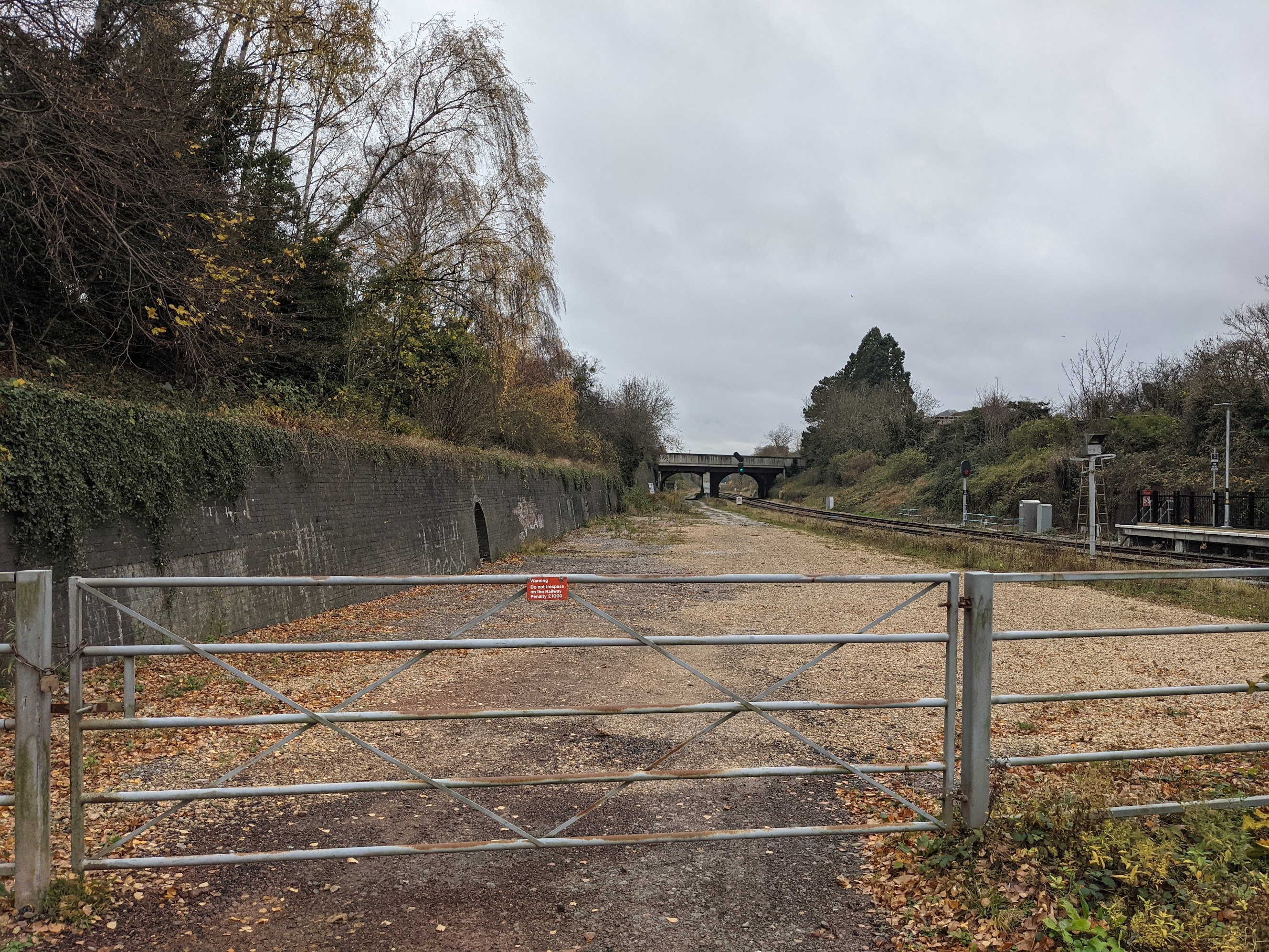 We're fighting to make sure this isn't the end of the line for active travel on the Honeybourne Line at Cheltenham Spa station