Bishops Cleeve to Cheltenham cycle route updates
Whilst we have criticised the '26-mile spine', the section between Bishops Cleeve and Cheltenham has been a longstanding priority for the Cheltenham & Tewkesbury Cycling Campaign, and we have closely followed developments linked to the Bishops Cleeve cycle route.
In the March 2023 Gloucestershire County Council Cabinet papers, we have some more details about timelines, and the likely routing, as the council moves to procure a contractor for design and delivery of the route.
The proposal is to connect to the Honeybourne Line through 'quietways' in St Pauls, through Pittville Park alongside the A435, passing adjacent to Cheltenham Racecourse and then north into Bishop's Cleeve, suggesting an alignment approximately as shown below;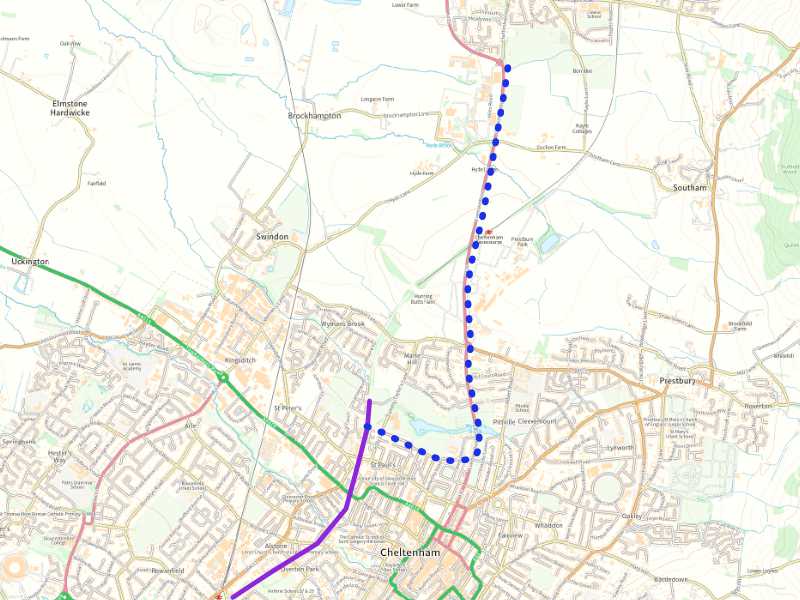 To date, the cycling campaign has not been engaged by Gloucestershire County Council, Sustrans or its design partner for input into the scheme, but we are particularly interested in ensuring;
That separated cycle sections are built to the highest standards, recognising the gradients involved, appropriate widths, and that junction treatments create safe crossings which preserve cycling momentum.
Whether the on-street sections are truely 'quietways' which will be accessible and safe to a wide range of cycle users.
Handling of pinch points, particularly the bridge crossing of the GWSR railway bridge near Cheltenham Racecourse, and the large roundabout near this.
How connectivity will be achieved to Cheltenham Town Centre without a significant diversion via the Honeybourne Line from Pittville Park.
Gloucester City Centre and Gloucester Docks cycle route plans
Similarly, for Gloucester City Centre, the council has published an indicative route running along Northgate Street, Southgate Street, Great Western Road and Llanthony Road over the Llanthony Lift Bridge. It also appears to include a spur towards Gloucestershire Royal Hospital. This route is accompanied by a map, so we have more certainty on what is being proposed.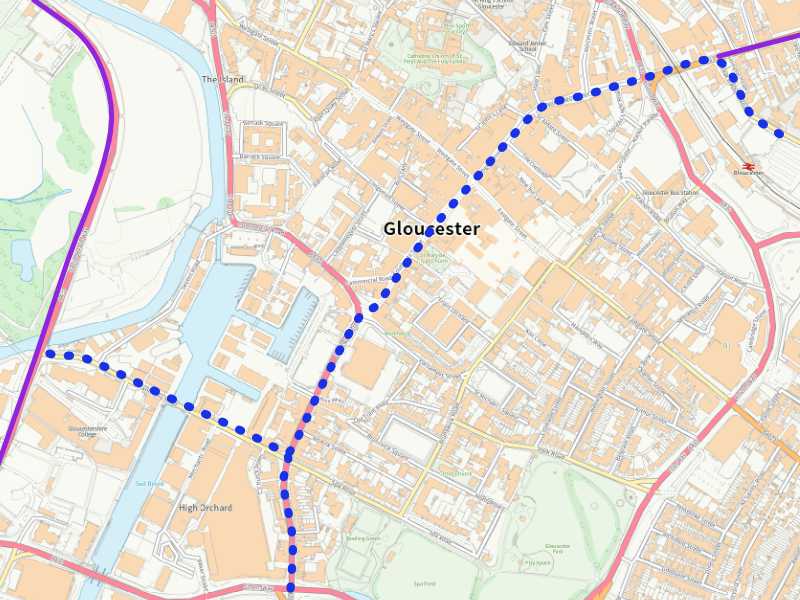 Whilst outside our area of immediate interest, we are interested to see how conflict is avoided between pedestrians and cycle users (given the council's stated commitment within its long term transport plan), and what level of motor vehicle deprioritisation will be undertaken on this route.
When responding to our 2021 investigation on the allocation of sustainable transport money to double the motor vehicle capacity of the Llanthony Road Gloucester South West Bypass (GWSB), the lead councillor said;
'To make sure the funding has the greatest positive impact we have looked at the network holistically – the scheme along Llanthony Road is designed to move traffic away from the city centre, improve air quality and free up more space for pedestrians and cyclists'

Cllr David Gray (Cons, GCC Cabinet Member) – Glos Live
We will be checking to see if the Gloucester City Centre scheme delivers on that promise.
The council is under pressure to commit this money based on deadlines for expenditure, and so we would expect to see rapid progress on these proposals over the next 12 months, including public consultation.
We will continue to monitor these schemes, so make sure you have subscribed to our free e-newsletter for all the latest campaign updates.