What is being proposed
At present, M5 Junction 10 currently provides access to the northbound carriageway of the M5, and receives M5 southbound exit traffic only. Gloucestershire County Council and National Highways are proposing a major expansion of the junction to allow all ways movements, as well as significant widening of the A4019 and the construction of a new north/south link road to the West of Cheltenham for access to proposed housing and commercial development, including the Golden Valley Cyber Central technology park development. There are some cycling related infrastructure attached to these plans.
The campaign responded to the first phase of consultation, and note that several of the improvements we highlighted have been reflected in the revised plans, including the adoption of a junction over a major new roundabout for the link road, and a recognition of the needs of active north-south journeys between the new housing and commercial developments.
The preferred option announcement was made in June 2021, and we have now responded to a further phase of consultation on these proposals. The image above shows the full scheme, and a more detailed plan can be downloaded here.
What features are relevant for cycling in the M5 Junction 10 plans?
Using the diverse mix of expertise within the campaign committee, we have examined;
The proposed west/east cycleway that runs from west of the junction, crossing the two northern arms of the junction, and then along the northern edge of the A4019
The newly added north/south cycleway that runs to the west of the new link road
Junction layouts, both for on carriageway and off carriageway cycle users
Proposed filtering of Withybridge Lane
General impacts of capacity expansion on road conditions, speeds and levels of likely harm
Highlights from our response to M5 Junction 10 plans
You can read our full response below, but our key feedback to the scheme developers are;
Overall, this is a major road expansion project, that will induce significant volumes of additional motor vehicle traffic. The general geometry, 'large tarmac' multi-lane junctions, additional lanes and straightening, will together allow high speeds and motorway-type driving to penetrate right into the urban areas of north west Cheltenham. It is not possible to offset the net increase in road hazards this will bring with token parallel cycle facilities, and the impacts of the additional traffic will be felt well away from the proposed cycle facilities. We are also concerned to note the substantial size of the access road into the new housing area, suggesting another car-led development is likely at this location.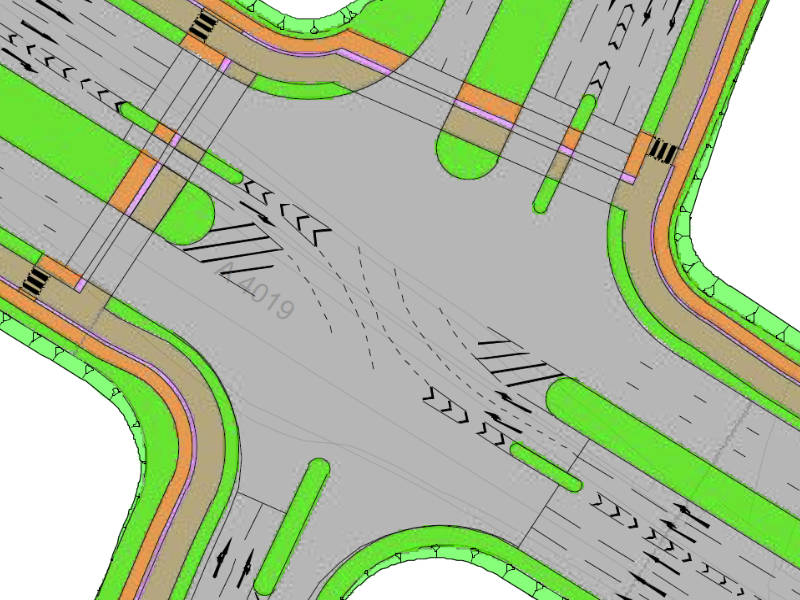 The quality of the off road cycle tracks through the motorway junction and along the A4019, whilst technically compliant in some locations, will provide an overall poor quality experience that is unlikely to increase cycling levels significantly. For example, westbound cyclists will end up closer to fast moving oncoming heavy vehicles than would ever be encountered on the road, and being frequently dazzled by headlights. Whilst the proposed provision may provide some escape for those forced off the widened carriageways, it is unlikely to provide a positive cycling experience that encourages significant additional numbers of cycle users. In such an expensive and extensive scheme, there was opportunity to develop higher quality facilities further away from traffic, and with natural screening. There are also too many side road crossings and a poor quality shared path through Uckington, which require significant slowing or stopping by the cyclist, making it undesirable as a strategic route. Finally, it is unclear how the edges of the scheme will effectively interface with other cycle facilities and contribute to an overall network.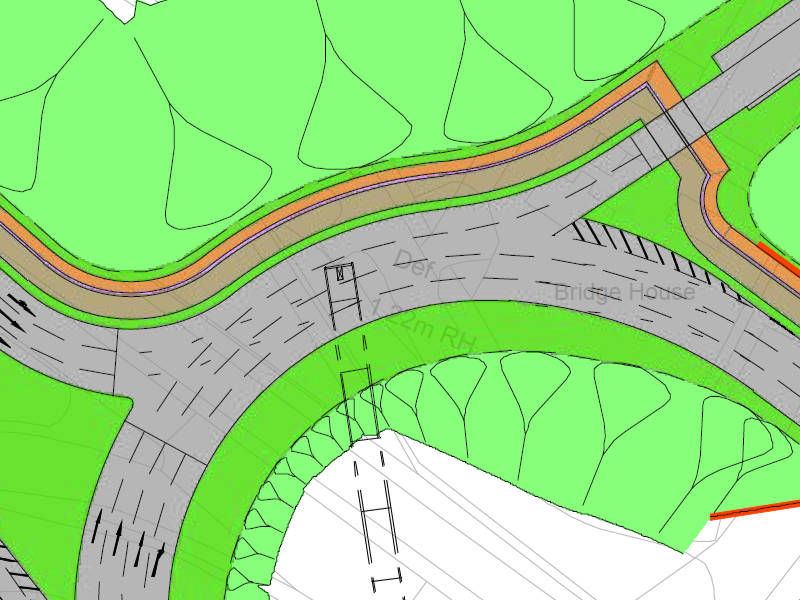 The needs of cyclists choosing to remain on the road are very poorly served. We highlighted in our previous response that the choice of a large roundabout for the M5 junction would create unavoidable risks for on-carriageway cyclists. The addition within these plans of a left only circulatory lane now requires cycle users to cross two lanes of motor traffic accelerating towards the motorway without priority or protection. In the context of the less than ideal off road route, and a dominance of longer distance, more experienced cycle users at this location, we believe the on road route should anticipate cyclist needs by making all circulatory lanes go onto the bridge, ensuring motor vehicle drivers must consciously turn onto the motorway from the left lane.
We welcomed the change to signal controlled crossroads at each end of the B4634 link, and the addition of the cycleway to the west. The success of this route will again be dependent on this being a high quality environment, sufficiently separated from the proximity, noise and glare of traffic. We have highlighted the importance of convenient, high quality connections into proposed developments, and asked whether this would better be achieved by placing the path on the east side of the new road, or separate to the carriageway running through the heart of the new housing.
We have supported the closure of Withybridge Road, which provides a suitable alternative to the link road path for those not requiring passive personal security through visibility to other members of the public, and to avoid ratrunning by motor vehicles up to the M5 Junction 10.
We have, as with the early round of public engagement, offered to contribute in more detail to the ongoing refinement of the scheme plans.
---
Our full response to the M5 Junction 10 Consultation
"This is the formal response of Cheltenham & Tewkesbury Cycling Campaign to the above
proposals.
Please note that our comments are based on the information available to us. At the time of submission we had not received detailed plans. It may be that our views would need to be expanded upon receipt of more detailed information, particularly with regard to the dimensions and geometry of proposals.
Types of cyclists to be accommodated
It is essential to recognise that cyclists are not one homogenous group but comprise a very diverse set of road users in terms of experience, competence, age, aspirations, attitudes to risk and optimum speed. To encourage cycling in line with Government and County Council policies requires facilitating all kinds of cycle use.
Of particular importance, cyclists differ as to whether they are comfortable riding with traffic or whether they prefer to be accommodated off-road where possible. Adults of reasonable skill and confidence often find roads easier to handle than many cycle paths. Other people fear being close to motor traffic and for them segregation is preferable so long as it is well-distanced from traffic. Safety is a complex issue but in general there is no evidence that cycling on paths is safer than on roads.
In the context of the A4019 corridor, almost all cyclists who at present use the road beyond Uckington are relatively experienced riders making longer journeys. They do not cycle the route for any inherent benefit in doing so but in order to reach the road network west of Junction 10 as easily and quickly as possible. There are no settlements of any size for a great distance beyond Junction 10 or places that are destinations for local trips. The potential for journeys along this section of the route by casual or less experienced cyclists or families is therefore very limited and likely to remain so unless and until further development takes place west of Junction 10. There is, however, much potential for more broad-based
cycling between Cheltenham and Uckington and the new developments in the area.
In an on-line meeting between [Atkins Representative] and [C&TCC representative] on 16th July 2021, it was pleasing that these distinctions between cyclists seemed to be recognised. However, as discussed below, this doesn't seem to have been followed through in the plans for Junction 10 in the consultation document.
M5 Junction 10: roundabout
We very much regret the use of a roundabout at this junction. Roundabouts are by far the least safe junction type for two-wheeled vehicles the riders of which are 10 to 15 times more at risk than car occupants. Nearly 50 percent of all accidents at roundabouts involve a two-wheeler and more than half the sites that have clusters of cycle accidents are roundabouts. (i,ii)
In Gloucestershire each year, more than a quarter of all cycling casualties take place at roundabouts and the proportion has increased with the growth in the number and size of roundabouts (iii)
The Transport & Road Research Laboratory concluded that, except for grade separation, there is no satisfactory method of providing cyclists with special facilities to negotiate roundabouts. It is inevitable that if this scheme goes ahead in its present form, it will increase cyclist casualties directly as a consequence of its design. This is not compatible with goals to encourage safe cycling.
We do not believe that the use of a large roundabout at this junction is in any way compatible with Government or Gloucestershire County Council cycling or climate change policies. The motorway provides the opportunity for drivers to travel fast without having to share space with vulnerable road users. The limits and driving practices of the motorway should not be extended onto the A4019.
Although a roundabout will most adversely affect road cyclists, it will also have an impact in creating a hostile environment for people using the cycle path. For everyone the roundabout will be yet another barrier and a deterrent to cycle use.
M5 Junction 10: road cyclists
In my meeting with [Atkins Representative], it was stated that the roundabout would be signalled and that it would be possible for confident cyclists to ride from the entry signals onto the bridge with relative ease. However, the consultation plan suggests that this manoeuvre will be much more fraught, less safe and possibly illegal.
Going west, the leftmost lane approaching the roundabout from the A4019 (SE) has markings indicating that its use is only for turning left onto the motorway. Indeed, road markings direct this lane exclusively towards the motorway. The second circulatory lane also splits with one arm directing traffic towards the motorway.
Cyclists need to be able to go ahead from the leftmost lane approaching the roundabout towards the motorway bridge. But as proposed they will have to cross two lanes of traffic accelerating towards the motorway, with neither priority nor protection. This is foreseeably a lethal situation where serious accidents will occur.
To provide a minimum of protection for confident cyclists riding ahead, all the lanes on the circulatory road should go onto the bridge, with drivers having to consciously turn left from these lanes in order to reach the motorway. This would cause no additional delay to motor traffic but would prevent cyclists having to ride in violation of the markings and it could offer them some modest priority (and thereby protection) over motorway traffic.
The approach to the roundabout from the A4019 (NW) is better in that the leftmost approach lane is marked for both left-turning and ahead traffic. Also broken lines lead from the leftmost lane onto the bridge. Cyclists who adopt the primary riding position on the approach stand a much better chance of avoiding a left hook by a following driver. At the very least, the westbound approach should be laid out similar to the eastbound.
M5 Junction 10: off-road cyclists
The cycle track both on the bridge and leading to it is too close to the carriageway and will create an unpleasant environment. In particular, riding west cyclists will be closer to oncoming traffic than is hardly ever the case on a road. People who fear cycling close to motor vehicles are not going to be accommodated by this design.
East of the roundabout the cycle track should be routed via the adjacent development in order to gain greater separation from the road. At the western end of the crossing of the M5 on-slip the cycle track makes a 90 degree left turn. The radius should not be less than the minimum recommended radius of 4 metres, preferably greater.
Riding east, cyclists will not be able to see traffic behind them as they approach the on-slip crossing. Although this may appear to be unnecessary as there will be a signal controlled crossing, it is always essential that cyclists should be able to see all about them that it is safe to cross before moving off. Their safety should not depend upon others obeying the rules.
To resolve these problems may require additional land take north of the on-slip road crossing to provide a gentler and better aligned approach. Access to the off-road facilities will be indirect and probably not intuitive for cyclists arriving on the road from Cheltenham. The cycle facilities proposed for crossing the A4019 do not appear to be convenient for these people to use.
It is not clear how cyclists riding west are supposed to rejoin the A4019 following the roundabout. They will need at least a central refuge by which to turn right onto the main road safely.
Cycle track alongside A4019 from M5 Junction 10 to Manor Road
This is the kind of design that has proved universally unpopular with cyclists and is little used in most places where it has been provided in Gloucestershire.
The cycle track is too close to the road and crosses too many side roads where cyclists are likely to have to stop. The maintenance of momentum is important for cycling to be comfortable.
More confident cyclists are unlikely to use the cycle track because it is too convoluted, slow and less safe than riding on the road with the priority of traffic. People who value their time are not going to appreciate multiple crossings of the A4019 or side roads.
Less confident people are also not likely to make much use of the facility because of the unpleasantness of riding so close to traffic. Westbound cyclists in particular will be closer to oncoming motor traffic than on the road so people who fear traffic are going to have their fears heightened rather than reduced.
Geometry at junctions is poor. Sightlines and turning radii appear unacceptable. Signal control of crossings will add further delay unless cyclists can cross in a single phase and there is automatic actuation of the cycle phase on the approaches.
The shared footways around Uckington are inappropriate, unnecessary and unsafe. This could be mitigated to some extent by cyclists using the access roads.
Some off-road facility from Manor Road to Uckington would be useful to enable less confident riders and families to reach the lanes and new development around Uckington, but it will need to be further from the carriageway and to a much higher standard than proposed to be acceptable.
The international 'bible' on designing for cyclists, The Design Manual for Bicycle Traffic (iv), emphasises the importance of adequate segregation verges where cycle tracks are placed near to roads, for both comfort of cycling and safety. For roads with a high traffic volume (such as the A4019), the minimum recommended width for a segregation verge is 8 metres, with 10 metres preferred. This standard of design not only makes cycle tracks more pleasant and attractive to use but significantly benefits safety at side roads (where it is easier to provide good sightlines) and minimises dazzle from oncoming headlights at night (and also dazzle of motorists by cyclists using powerful modern cycle lights). Hedging between the cycle path and road away from junctions can be used to further enhance paths by shielding cyclists from traffic and wind.
In our view, the location of the cycle track along the A4019 is much too close to the carriageway and a major and fundamental failing of the design which will minimise its use.
Link road to B4634
We acknowledge that the junctions at either end of the link road are to be signal-controlled crossroads rather than roundabouts. This will make them safer and easier to handle for cyclists.
We agree that it would be opportune to provide a cycle track along this corridor to encourage broad-based cycling between the housing and commercial developments. However, this must be well spaced from the road as explained above. The present proposal for a cycle track immediately adjacent to the link road is not acceptable.
To access development along the link road a cycle route within the development (perhaps central within the development grid) could be more useful than one along the link road. The junction at the north end of the link road seems excessively complicated with 4 or 5 lanes on three approaches. This will be a very hostile environment for cycling on-road or on the cycle facilities, especially when turning. This kind of 'large tarmac' design is inappropriate for a modern urban area and is not sympathetic to environmental or climate change goals.
It is not possible for us to comment further on the link road, its accesses or the southern junction without knowing more about the nature of the development that is to take place in the area.
Withybridge Lane
This road should remain fully accessible to cyclists, for whom it may provide more pleasant cycling conditions than along the link road. Closing this road as a through route for motor vehicles would enhance the quality of the environment; we are unconcerned about exactly where the road is closed so long as the closure arrangements do not impede cycle passage.
Conclusions
This scheme will lead to more and faster motor traffic not just along its course but also continuing into the centre of Cheltenham and along all connecting roads. The impact on cycling will be overwhelmingly negative; it is simply not possible to encourage cycling and to facilitate more and faster motoring at the same time.
Confident cyclists may be able to cope with most of the changes proposed for the A4019, but that does not mean that they will find it pleasant to do so. The roundabout at Junction 10, and particularly the design of its SE approach, can be reliably predicted to increase accident risk and will likely discourage cycling in this direction.
The proposed cycle tracks are much too close to the roads to make for a pleasant environment and are unlikely to meet the needs of people who wish to cycle away from traffic. It does not provide an alternative route to the A4019 that is equivalent in ease of use, speed, maintenance of momentum or safety. It would appear that important criteria do not meet the requirements of LTN1/20 let alone the more stringent requirements of the Design Manual for Bicycle Traffic that have been shown to be essential to cycling becoming a popular, practical and safe mode of transport."
February 2022
References
i) Accidents at 4-arm roundabouts, Maycock G, Hall RD, Transport & Road Research
Laboratory report 1120, 1984.
ii) Pedal-cyclists at roundabouts, Layfield RE, Maycock G, Transport & Road Research
Laboratory, Traffic Engineering + Control, June 1986.
iii) In 2020 there were 35 cycling accidents at roundabouts and 4 at mini-roundabouts, making
25.6% of all cycling accidents in the county.
iv) CROW, 2016. The Dutch Government road research institute. The work of CROW is
referenced in LTN1/20 Cycle infrastructure design.