This post was originally published to help members read the budget consultation. The budget consultation has now closed. You can read our submitted response here.
We've taken a look through over a hundred pages of documents to help those who are interested in what GCC is doing for cycling as they respond to this year's Gloucestershire budget.
Gloucestershire County Council are consulting on their budget for next year. You may have seen their promotional video for a 'greener, healthier and more prosperous' Gloucestershire. It leads with a promise that it 'delivers 26 miles of cycle track from Stroud to Bishop's Cleeve', as well as other claims about action on climate change.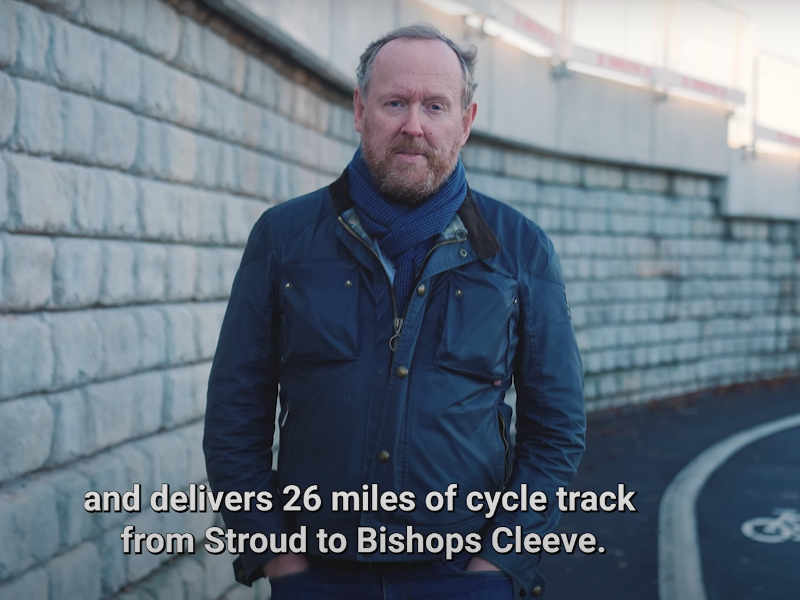 As a cycle campaign, we will be submitting our own response to the budget. However, given the length of the Gloucestershire budget, we thought it would be helpful to summarise the areas you might consider as you decide on your response. You have the chance to say whether you think the budget will deliver what it claims, and whether you agree or disagree with the proposals.
It is vital that local residents interested in cycling respond. If the council is willing to listen, the consultation can shape priorities. The county council are responsible for travel infrastructure right across Gloucestershire, and so its approach is critical if more people are going to be able to enjoy cycling, particularly as a form of transport.
Whilst it might be less exciting than feeling the wind through your hair on a ride into town, please do make a cuppa and share your views with them.
Where can I read the Gloucestershire budget?
You can read the council's summary of the budget here. However, this doesn't help you much. Spending on 'highways' could mean anything, so who knows if it is a good idea or not?
The detail is actually in the capital plan, which we've obtained from the December 2021 GCC cabinet papers, where we find the breakdown of what they are financially committing to. The information is limited, but we've attempted to highlight what we think it reveals for cycling.

Our two key observations as a cycle campaign
Despite the climate headline, the Gloucestershire budget appears to remain heavily weighted towards more road building, with several major expansions, including widening of the Gloucester bypass and M5 Junction 10. Larger roads and junctions, even where they are accompanied by (variable quality) active travel measures, result in more motor vehicles and higher speeds on Gloucestershire's roads. This will increase danger for pedestrians and cycle users, and decreases the benefit of the investment that there is in cycling. It is not just cycling schemes, particularly where they are badly designed or squeezed in, that benefit cycling. We need quieter, calmer roads with less incentives for driving across the county if we are to see the necessary shifts towards cycling and walking. We don't believe there has been a sufficient change in spending priorities to support active and public transport modes in this budget.
The council remains dependent on external grants for active travel funding (as it does for many big highway projects). The council's own spending on active travel is again almost totally consumed on topping up the funding gap for the B4063 route between Cheltenham and Gloucester (We highlighted the risk that pursuing the B4063 route would mean all other areas across the county would miss out for several years in our original B4063 consultation response), and on progressing the Bishop's Cleeve cycleway, a decision apparently precipitated by opposition scrutiny in recent months. Given so little money is available from the council's own budget for the rest of the county, it is vital that the council prioritises active travel in the general funds it has, and in the bids it makes for major highways schemes for 2023/24 and beyond. It needs to stop building bigger and bigger roads. We cannot build our way out of congestion, pollution, noise and CO2 emissions.
** Campaign impact ** – Our A435 investigation precipitated an important series of conversations amongst councillors and led to public debate on the prioritisation of the Bishop's Cleeve route in this budget.
What money is there specifically for cycling in the Gloucestershire budget?
Gloucestershire County Council currently favours 'showcase' type schemes, and these are prominently mentioned in the budget, alongside ongoing projects;
The Gloucester Docks cycle link, funded through part of a grant from the Department for Levelling Up.
B4063 cycle route connecting Cheltenham and Gloucester, although we are unclear if this includes the much more hazardous Longlevens stretch which has been left till last.
Honeybourne cycle extension, presumably to mesh with the GWR station works.
Hubble Road Cheltenham, converting existing shared path into a narrow cycle track and footway.
Addition of southbound only uphill cycle facility to the A435 Charlton Landslip repairs.
Is all of this new money?
No. The majority of these monies are actually just rolled over from previous years, or grants already received. This is fairly common as the council attempts to gather enough funds, but it does mean you have to carefully read what is actually new investment, as it is possible to announced the same money in multiple years.
The new money for cycling in the 2022/23 budget appears to be;
A further £2.7 million council tax funded contribution to finish the B4063 route between Cheltenham and Gloucester, added to last year's £3 million council tax funded contribution, to top up a grant from National Highways (previously Highways England).
A further £4.6 million (£2.9 million external grant, £1.7 million council funded) to construct the Bishop's Cleeve to Cheltenham cycleway, added to another £5.3 million external grant in the existing budget lines. We are not currently aware of the source of these grants, and are investigating.
£0.5 million (council funded) for cycle provision in the A435 (Southbound) Charlton Landslip repairs. This appears to be an opportune investment given the necessary landslip works, rather than a strategic cycle scheme priority given low potential use for active transport at this location.
£0.1 million for 'cycle infrastructure', not further described.
There are also much larger amounts for general highways maintenance etc, which may include elements that benefit cycling if appropriate priorities are set.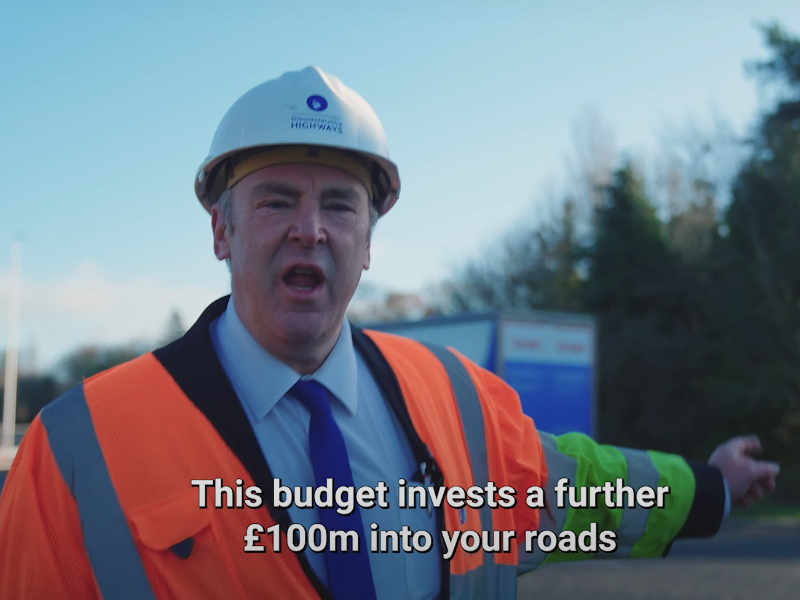 Reflecting the cabinet's rejection of the recent opposition council motion to urgently adopt a default 20mph speed limit on non-strategic residential roads, there is no substantial additional money available for accelerating the roll out of 20mph limits more rapidly across Gloucestershire, nor are there substantial additional investment in the approach to road danger reduction beyond a community speedwatch fund.
Summary
Overall, our impression is that the Gloucestershire budget for transport is still private motor vehicle dominated. We believe this was the ideal year for accelerated investment into local places across Gloucestershire, to capture the potential shifts in travel patterns 2020 and 2021 showed us were possible when people felt they had space and safety on our streets.
We are encouraged to see the council finally move the Bishop's Cleeve link forwards. However, the negative impact of prioritising almost all internal council active travel monies on the B4063 is now even clearer. For a second year, many other local schemes benefitting schools and urban centres across the county will not progress as money needs to all go on the spine route. By the end of next year, it will have consumed 5.7 million of taxpayer money – by comparison, the council estimates it would take £6-8 million to role 20mph residential speed limits across all of Gloucestershire. We continue to highlight the ongoing opportunity cost of focussing on one mega route at the expense of all others, particularly those local areas with stronger demand cases.
The offer of only a meagre £0.1 million for other cycle projects is particularly disappointing given the climate emergency declaration of the council. Whilst general highways budget could be spent on cycle facilities, we think the budget should ringfence a much larger, discrete fund out of the general highways budget so that local residents can see what is actually being spent on active travel, and to support local councillors who have ambitions that cannot be met through their limited and oversubscribed local 'pot'. We are fed up with hearing 'this scheme will also benefit pedestrians and cyclists' when it is obvious it is basically a car benefiting project.
Finally, we remain extremely concerned that the focus of council bids and strategic priorities for highways funds continues to be on road expansion, inducing even more private motor vehicle trips and increasing risk on the 99% of roads that will not benefit from the council's one 'showcase' cycle route. Given there are sadly now so many fixed points for the 2022/23 budget, we believe this budget could still better use the general resource to invest in school streets, faster 20mph implementation and measures to reduce road danger, rather than more local car-focussed schemes.
How can you respond?
You can find the council's budget consultation questionnaire here. Opportunities to talk about cycling include question 2, where you can clarify how you feel about their approach to climate change and delivery of infrastructure, and question 4 where you can share any other views you've formed. Don't forget to comment on other issues that you're also interested in.
We'd also encourage you to speak to your local county councillor, to highlight how you're relying on their local highways monies for changes in your area, and that you want the council to change the focus of its bidding for future years. We're happy to work with any councillor to prioritise and address the barriers to cycling in their area for Cheltenham and Tewkesbury – just get in touch.
About the campaign
We are a totally volunteer-organised group with a vision for Cheltenham and Tewkesbury to be cycling friendly towns, where everyone feels able to cycle from their front door to wherever they want to go across North Gloucestershire.
If you're interesting in supporting cycling, join us for only £5 per year to support our activities and to receive regular updates.
---
Media links for Gloucestershire budget
You can watch the promotional launch video from Gloucestershire County Council, from which the screenshots in this article are captured, below;