Cheltenham Borough Council has recently relaunched its 'Connecting Cheltenham' strategy for future mobility in and around the town. It has six mobility themes, including 'Cycle Cheltways'.
It is accompanied by a baseline report which describes the challenge and opportunities, and highlights the huge opportunity to develop cycling within and around the town if the right conditions are created for people to enjoy cycling.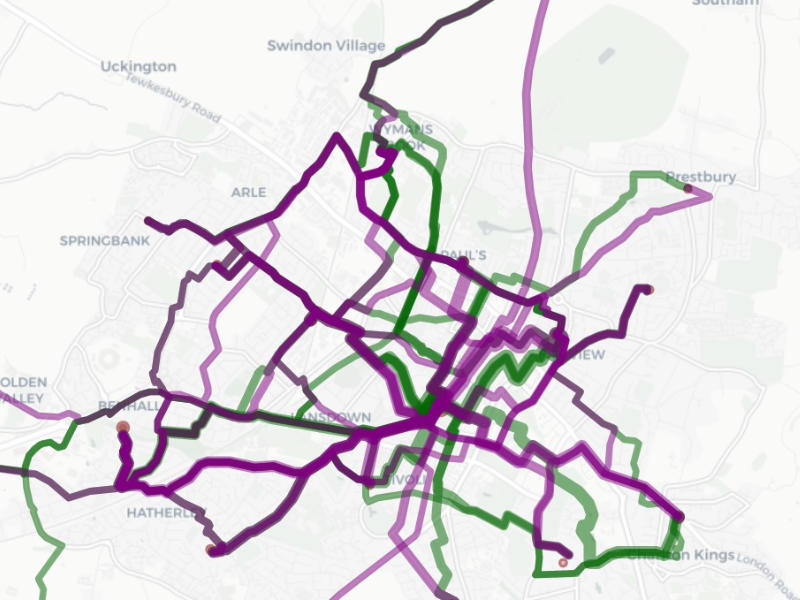 Having previously been involved in this work, the campaign has been asked for an updated response on developing the strategy moving forwards.
We've welcomed the general thrust of the report, including;
That it seeks to create a connected vision for mobility that recognises the challenges and failures of the current system
That it thinks about the strategic connections at the heart of the network, and includes the much needed link to Bishop's Cleeve
The speed limit strategy, built on residential 20mph zones, and a desire to create liveable streets and an accessible public realm
Planning to deliver changes in behaviour, with an inclusive approach to all communities
We've highlighted areas we think could be improved or need developing;
Gaps in the proposed Cycle Cheltways routes, particularly

the lack of a strong east-west route that can be used by all,
no plan for connecting to Cheltenham Hospital, one of the largest single trip generators outside of GCHQ
a new, high quality north-south route to the west of town connecting through the golden valley development from the A40 up to the Tewkesbury Road
the ongoing challenges of using the B4063 route, rather than the A40 route (as is shown in the Cheltways plan)
that current infrastructure projects such as the south west end of the A40 works are not delivering to the quality that is needed

How it will deliver public transport initatives outside of a London style legislative framework
We've also recommended four simple steps that we believe are within the council's grasp to move forwards, recognising that some areas such as Highways changes are dependent on action by Gloucestershire County Council.
Our priorities for Cheltenham Borough Council to move forwards on Connecting Cheltenham for cycling
1. Manage the existing infrastructure well;
More focus needs to be given on maintaining the key corridors for walking and cycling, such as the Honeybourne Line which is under CBC's control. Resurfacing work is required, but there will need to be measures to increase capacity through widening and separation of pedestrians and cycle users where possible. (Example below of an upgrade to a London route to create enough space for all users.)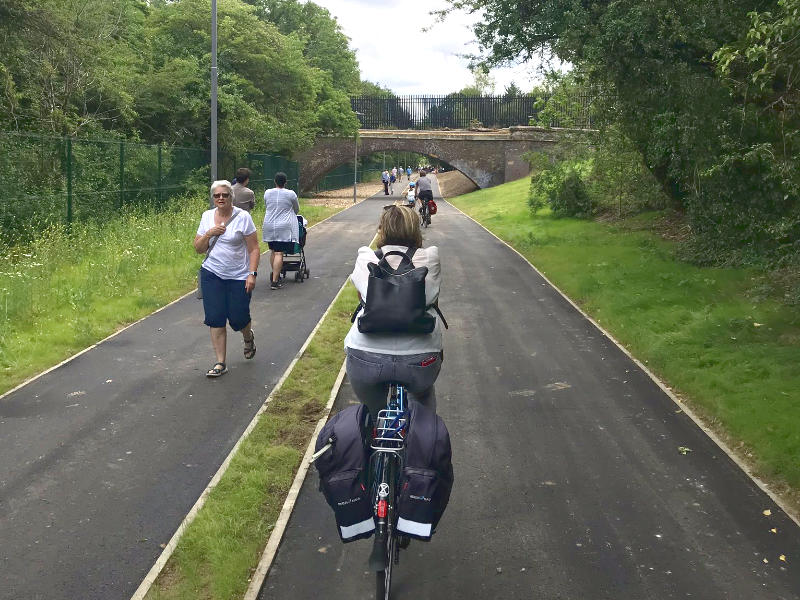 2. Maximise the opportunities offered by using open space;
In the short term, provide a route through the open space of Wyman's Brook and the Honeybourne Line to Albemarle gate / Pittville Park. This would be a low cost project on a route very valuable to school journeys.
Also in the short term, review access on current routes; many existing routes on CBC land are compromised by various barriers and bollards, many of which no longer comply with modern accessibility standards. We asked the council in our reply to review all the barriers within its area of responsibility and to upgrade them to allow families, cargo bikes and those with disabilities to enjoy equitable access.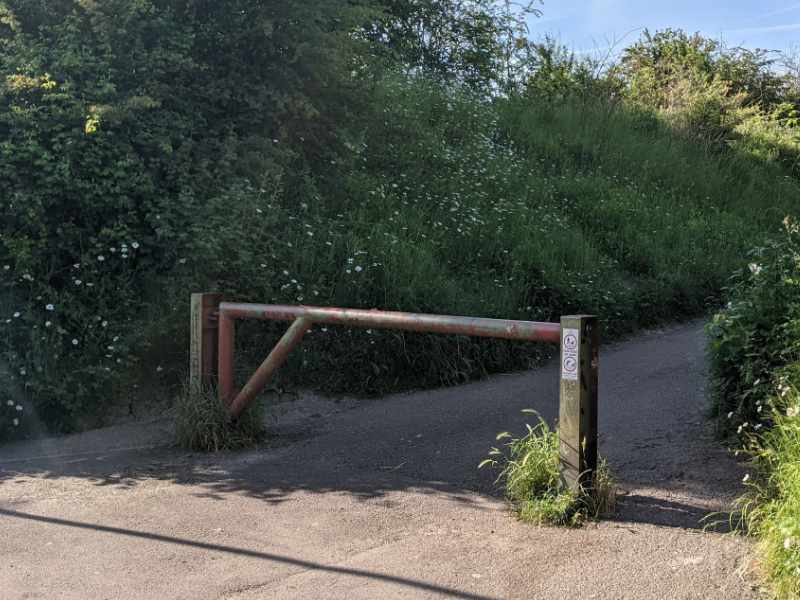 In the long term, plan an east west route from the town centre utilising existing public space; a largely off-road route enabling higher speeds for slightly longer journeys. We recognise this would be an ambitious project, requiring a new bridge over the railway line
3. Choose one area in the town centre to improve the public realm;
We would suggest Montpellier Street as a project. It is one of the most precious streetscapes in Cheltenham, spoiled by the dominance of the car, and has huge economic potential in the post COVID recovery period.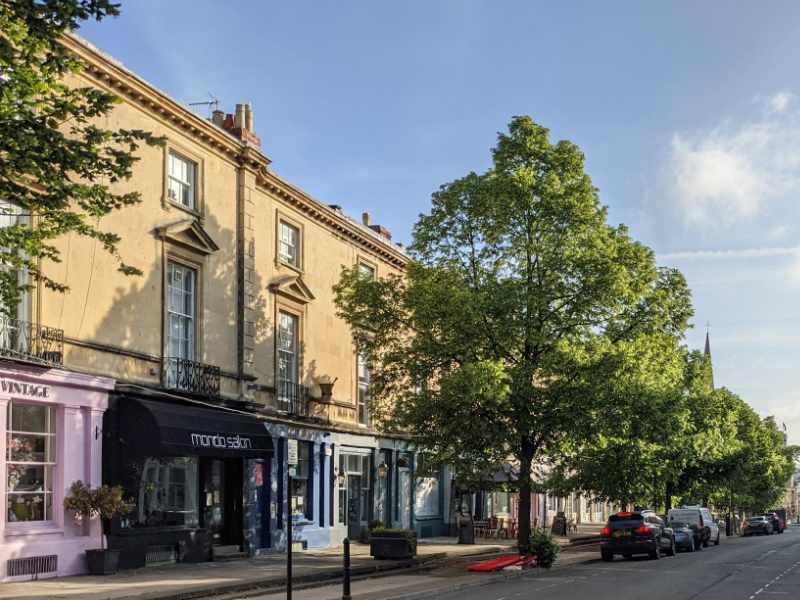 Reducing the dominance of the car in the street would encourage footfall as well as facilitate two-way cycling, unlocking a significant barrier to access by bypassing a busy roundabout and creating a more direct route southbound.
4. Focus on one key barrier to cycling and pedestrians to start with;
We've recommended that the council demonstrate it can make progress by focussing on one junction – Sandford Road/Bath Road and Back Montpellier Terrace.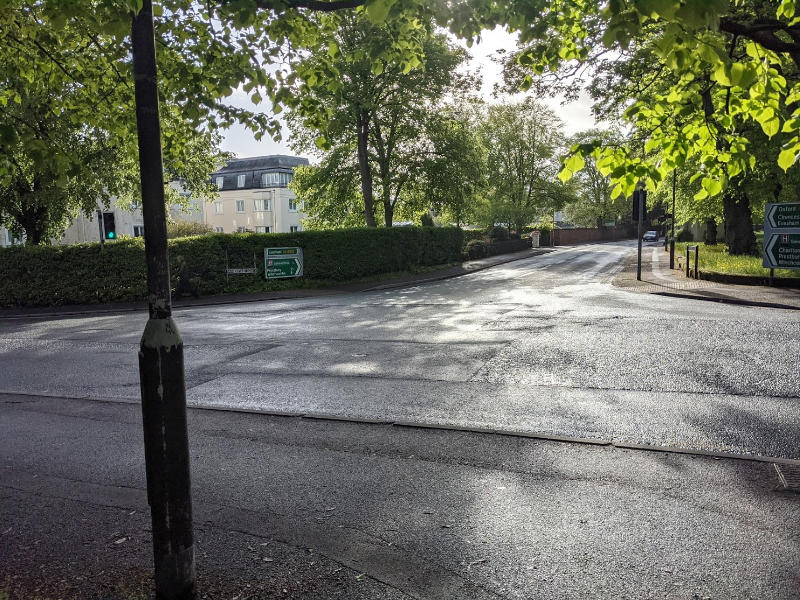 The advantage of this location is that it brings together a significant coalition of partners including the NHS Hospital Trust and local traders, with potential to influence Gloucestershire County Council as the Highways authority. Back Montpellier Terrace is already a useful two way route, and one of the earliest Cheltenham schemes to allow cycling two way on one way streets. However, it's full potential is not realised because of the junction with the Bath Road, and no onward journey to Cheltenham hospital. Pedestrians also find the crossing of Sandford Road difficult with unexpected traffic flows.
Building a better conversation
Building a cycling culture will need to involve a wide variety of groups and institutions, and Cheltenham Borough Council can play a key role in this process. Encouraging people to cycle is not just about infrastructure; there is a need to engage with people, communities and institutions. The campaign would welcome the recreation of a local cycling forum bringing together a wider coalition of groups to build support for changes in the physical spaces, as well as the culture within communities and organisations. The Connecting Cheltenham vision is a great way to start the movement.
Our full response
If you'd like to read our full response to the Connecting Cheltenham report, you can read it below.
Our full response to Connecting Cheltenham

Introduction

Cheltenham and Tewkesbury Cycling Campaign welcomes the general thrust of the report that aims to have a vision, thinking about strategic connections, liveable streets, behaviour change liveability and inclusivity, and not least wellbeing, all themes that have occupied the campaign over many years. We share the council's ambition for cycling to be a popular and easy form of transport for local residents and are eager to work with the Borough to achieve this.

However there are challenges. The report needs more detail on how the town will respond to some of the problems that Cheltenham faces, such as issues it shares with many other towns outside London, on public transport. In relation to integration and buses the current legislative framework is stacked against making any real progress.

It is of great concern to us that the current road programme of Gloucestershire County Council is also working against many of the laudable aims of the report. It is particularly sad that the opportunity of transforming the station forecourt has been wasted, with little to show for all the money spent with poorer conditions for all except the car driver.

Liveable streets

We very much welcome the speed limit strategy which proposes town centre, residential and local centre streets 20mph, and 30mph for only strategic routes, something for which we have been pressing for many years.

We would support the other measures such as addressing barriers to cycling to enable door to door cycling on all streets, as well as public realm improvements.

Cycle Cheltways.

Whilst we have campaigned for some longer distanced off road routes such as the Honeybourne Line and the link to Bishops Cleeve for many years, and it is good to see these included in the report. We do not think though all the routes proposed could be considered strategic. We would question if they could be considered useful within the overall strategy with regard to connectivity, quality or continuity.
It does now look as if the Honeybourne Line route as conceived in the early 1980s , will finally provide a north south link across much of the town with the extension likely to proceed. We would highlight that with rising use, widening and segregation is likely to be required.

All the East West routes shown on the plan are unlikely to provide a sufficiently high quality of infrastructure for any significant benefit due to space constraints. An alternative for the Borough could be more ambitious and plan for an off-road route through existing open space to the west of the town, with local roads feeding into the route, and aligning with the Golden Valley Development.

The other East West proposal for a route through open space is from Wyman's Brook to Pittville and Albert Road is missed from the plan and is more deliverable connection with less constraints.
We still have concerns about the A40 proposals with the Borough boundary with regard to the quality of the infrastructure proposed. Poorly designed infrastructure is not going to achieve significant growth in cycling.

A case in point is the route shown on the South West of Cheltenham, the existing route along the south west bypass which is of very variable quality. The Northern end of this route is very problematic and conditions are being made worse with the current alterations to Arle Court roundabout.

We note that a route is shown along the Golden Valley bypass. This is our preferred route if the link to Churchdown is to be improved, a proposal that has been rejected by Highways England and the County Council. We think the proposed facilities along the Gloucester Road is a mistake, and that the funds being spent are poor value for money in terms of generating short cycle trips, which is where the growth in cycling will be initially.

The Cycle Cheltways plan misses the hospital, one of the largest single traffic generators in the central area. The hospital would benefit from significant increases in cycle usage due to the very constrained nature of its site. There is at least one barrier that urgently needs addressing to help improve access.

The Future, a practical way forward

We think it would be useful if the Borough focused on practical steps that were within its powers to progress. At present the County is unlikely to be able to release significant sums for making any progress in Cheltenham. There have been significant challenges for the Borough to engage with the County.

There are four areas where the Borough could take action to increase cycling levels:

Managing existing infrastructure within the ownership of the Borough
More focus needs to be given on maintaining the key corridor for walking and cycling which is the Honeybourne Line. We understand the resurfacing work is currently out to tender, but there are longer term maintenance issues that need to be addressed as well as measures to increase capacity.

Maximising the opportunities offered by using open space
This proposal is split into two.
Short term project. Provide a route through open space from Wyman's Brook and the Honeybourne Line to Albemarle gate / Pittville Park. This has been discussed over many years and would be a low cost project providing a route particularly for school traffic.
Many of existing routes on land under the ownership of Cheltenham Borough Council are also compromised by various barriers and bollards, many of which no longer comply with modern accessibility standards as described in LTN1/20 We ask the council to commit to review all the barriers within its area of responsibility. They should be upgraded to allow families, cargo bikes, and those with disabilities to enjoy equitable access.
Long term project. Plan an east west route from the town centre utilising existing public space. This would be a largely off-road route enabling high speeds for slightly longer journeys. It would be an ambitious project including a bridge over the main railway line.

Choose one area in the town centre to improve the public realm
We would suggest Montpellier Street as a project. It is one of the most precious streetscapes in Cheltenham, spoiled by the dominance of the car, and has huge economic potential in the post COVID recovery period. By reducing the dominance of the car in this street would encourage footfall as well facilitate two-way cycling, unlocking a significant barrier, providing a way to avoid a busy roundabout and a more direct route southbound.

Focus on one key barrier to cycling and pedestrians.
The junction of Sandford Road Bath Road and Back Montpellier Terrace
The advantage of this location is that a coalition of significant partners such as the hospital and local traders could be engaged to help in the campaign to ensure the Highway authority include the project in future programmes, co-designing potential solutions to make an effective case for change
Back Montpelier Terrace is a useful two-way route, and one of the earliest Cheltenham schemes to allow cycling two-way in one way streets. Its full potential is not being utilised because of the junction with Bath Road. Pedestrians also find the crossing of Sandford road at this point very difficult.
The Campaign supported the Borough at a public inquiry into proposals for this junction, but no further progress has been made. We would love to work with Borough to realise improvements at this location.

Public engagement

Building a cycling culture will need to involve a wide variety of groups and institutions. The Borough can play a key role in this process. Encouraging people to cycle is not just about infrastructure, there is a need to engage with people, communities and institutions.

We have had cycle forums in the past for the Borough but these have involved primarily cycling organisations and engineers. Perhaps the future is a wider coalition of groups to build support for changes in the physical spaces as well the culture within their communities and organisations.

This is a particularly opportune moment to increase support for cycling with increasing interest during lockdowns, and increased awareness of climate change and air quality.
May 2021

[Ends]